Colgate is pretty proud of itself for introducing the first recyclable plastic toothpaste tube, but the truth is, yes it's better than tubes you can't recycle and better if you have no other option, but most of us know that we can't recycle our way out of plastic.
So what are your plastic-free toothpaste options? I've pulled together 11 plastic free toothpastes for you that give you tons of options (not including the DIY option below).
The links below may contain affiliate links in which I may earn a small commission at no additional cost to you.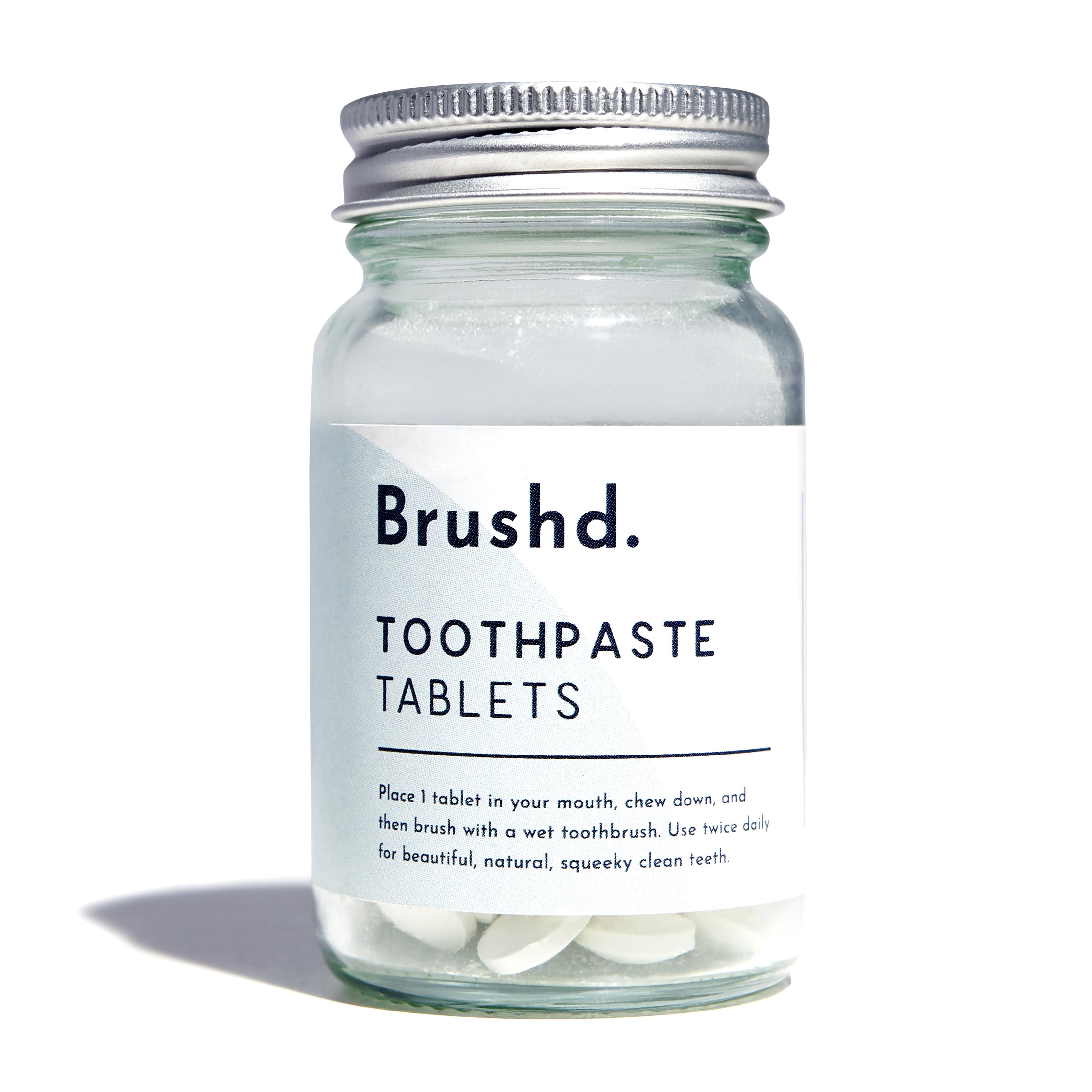 Plastic Free, Fluoride or Non Fluoride Toothpaste
These tabs come with 124 tabs in a glass jar making them quite affordable if multiple people will be using them.
If you order the refill in a card box, you can save an additional quid, too.
Plastic Free, Fluoride Toothpaste 
DENTtabs come in a corn starch bag that can be composted when empty. &Keep offers a Subscribe & Save option that will save you 10%, too.
The tabs need to be chewed into a paste and then you brush as normal.
There's enough tabs to last one person two months.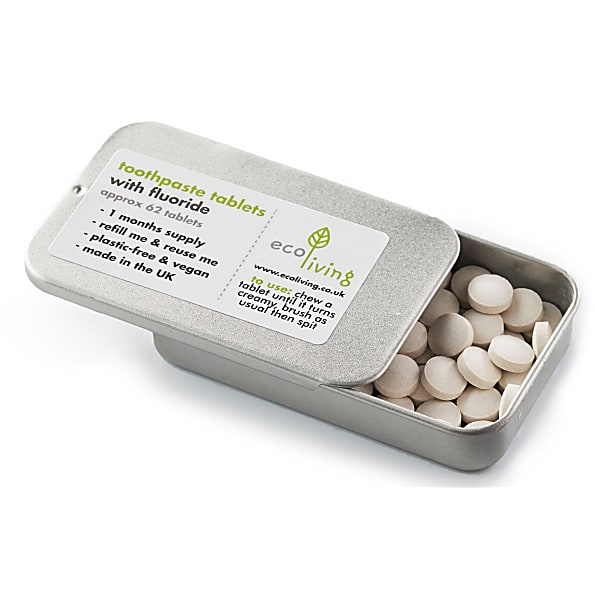 Plastic Free, Fluoride (Non-Fluoride available)
Ecoliving's tablets also come in a cute little tin with refills available in plastic-free compostable packaging.
They are U.K. based, contain no palm oil, but has the same amount of fluoride as regular toothpastes.
If you buy their plant-based floss, Ecoliving plants a tree through the Eden Reforestation projects.
Plastic Free, Non-Fluoride Toothpaste
Regular toothpaste, but in a cute jar that can easily be reused or recycled.
Just scoop a pea-sized amount onto your toothbrush and brush as normal. Ideally you don't want any moisture to get in the jar and contaminate the toothpaste.
They also have a couple of children flavoured versions as well.
The product itself is made in the U.K and they do not test on animals.
The price is reasonable when compared to commercial toothpastes and depending how much you use can last 2-4 months.
Plastic Free, Non-Fluoride Toothpaste
Georganics makes the floss I love so their toothpaste would be a good place to start if you want a fluoride-free toothpaste. They also offer kid-specific flavours.
The paste comes in a glass jar in a box and has a bamboo spatula for scooping out the paste without contaminating the contents.
One jar lasts one person 4 weeks but that will depend on how much you use each time.
This company is also U.K. based and has a Zero to Landfill scheme where you can send back items that can't be recycled by your local council and they will dispose of it for you.
Plastic Free, Fluoride
Don't be fooled that tube is made from 95% PEFC-certified spruce wood most of which is recycled sawdust from German joineries. Though you would still have to pop it in the bin as it's not recycled (yet) Hydrophil is working on a solution which to me means a recycling scheme or a send-back program coming soon.
This toothpaste is an easy replacement for the big brands toothpaste but without the nasty chemicals or plastic. The toothpaste also has the Natural Cosmetics seal so there's no animal testing, no plastic, and it's vegan.
Plastic Free, Fluoride Free Toothpaste
This was such a weird yet cool find. Georganics made toothpaste into a stick that you rub your toothbrush on and then brush your teeth!
One stick lasts one person 6 months, so it's super cost effective and no plastic!
This is one I'm excited to try.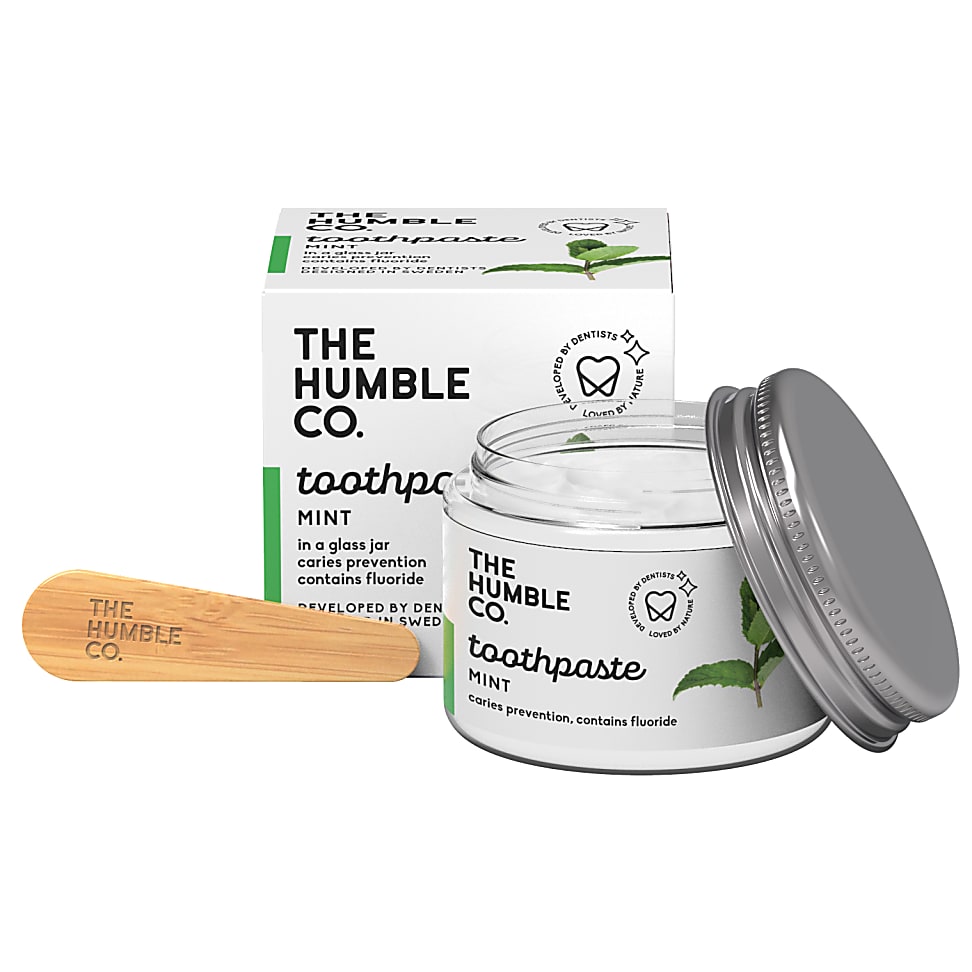 Plastic Free, Fluoride Toothpaste 
The Humble Company is actual toothpaste, but in a glass jar. It comes with a bamboo stick for applying so you don't get any water in the jar (which would contaminate your toothpaste).
The ingredients are vegan and cruelty-free and the toothpaste was developed by dentists.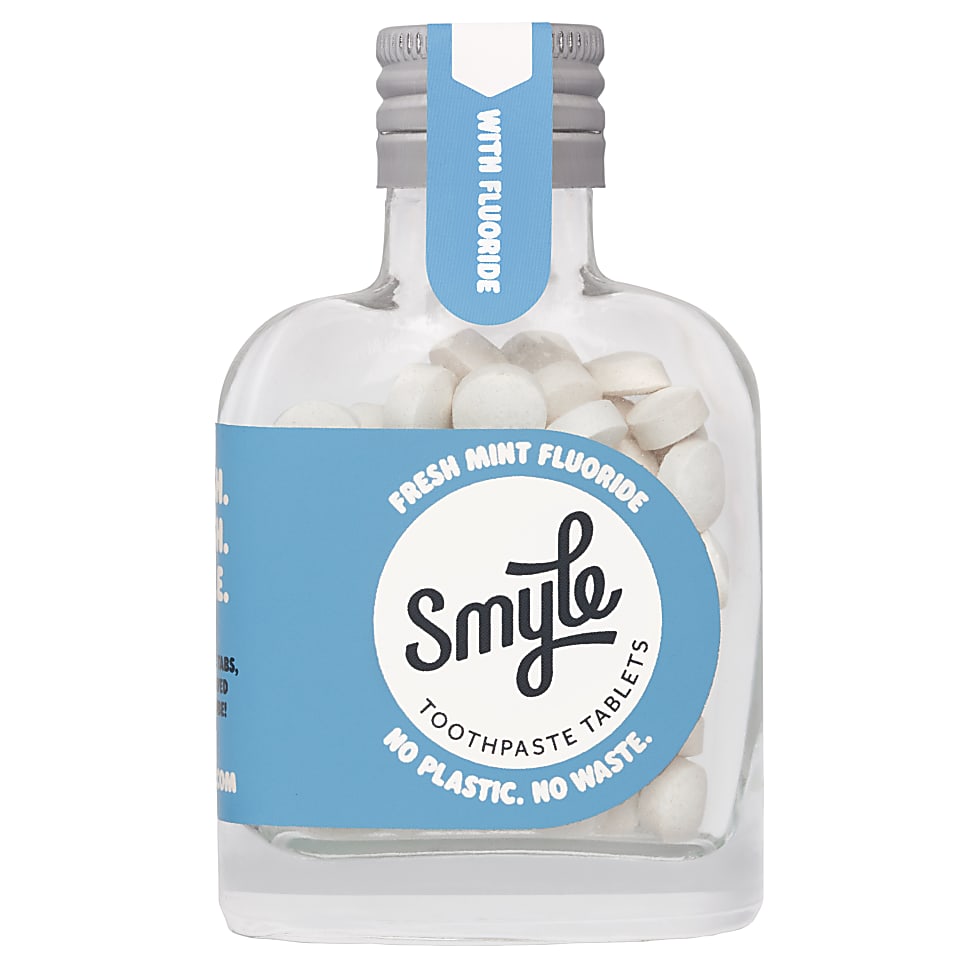 Plastic Free Fluoride Toothpaste (Non-Fluoride Version Available)
These toothpaste tabs come in a glass bottle and refills are available in packs of 125 tablets (two months for one person).
The tabs are vegan and cruelty-free and there is a fluoride-free option available as well.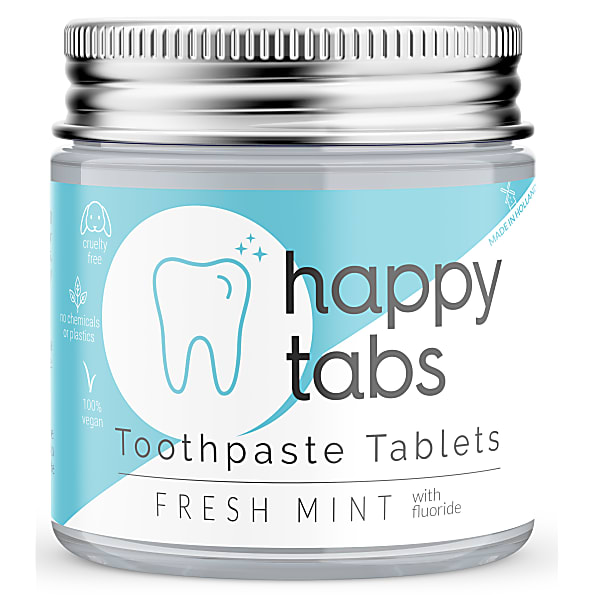 Plastic Free, Fluoride Toothpaste
Happy Tabs comes in reusable glass jars with refills available in recycled packaging. The tabs have no nasty chemicals, only natural, vegan goodness.
Happy Tabs also donate 5% of their profits to environmental and social causes.
Plastic Free, Non Fluoride Toothpaste (Fluoride Versions Available)
This vegan, cruelty-free toothpaste is formulated for those with sensitive teeth and gums.
It comes in a plastic free jar with a spatula for scooping the toothpaste without contaminating it with water from your toothbrush.
If you prefer, Ben & Anna also have toothpaste tabs with Vitamin B12 to help prevent deficiency if you are vegetarian or vegan.
Make Your Own Toothpaste
Ingredients
Make It
First warm 60g (4 Tbsp) tablespoons of coconut oil so it's melted
Add 90g (6 Tbsp) of Sodium Bicarbonate (aka baking soda) and mix together to make a paste
Stir in 5g (1 tsp) of Xylitol
Optional: add 2-3 drops of peppermint oil for minty flavour
Store your toothpaste in a glass jar and be sure to scoop out what you need with a dry utensil to avoid contaminating the toothpaste with water.
The sodium bicarbonate is useful for fighting the acids from the food and beverages we consume that attack our teeth as it has an alkaline pH.
Coconut oil has been shown to reduce streptococcus mutans, the bacteria that causes cavities.
Xylitol is a sugar alcohol found in fruits and vegetables and is even found metabolised in the human body. It is often an ingredient in chewing gum and has been shown to prevent tooth decay because the bacteria that feeds off the glucose in our foods, eat the Xylitol instead and basically starve to death.
So, all safe, natural ingredients that you can easily and happily use as your own toothpaste on the cheap if you have time to give it a go.
And don't worry about the left-over sodium bicarbonate as it's useful for cooking and cleaning. Same with the coconut oil. It's good for cooking and making other products like your own deodorant or hair conditioner.
How do you use toothpaste tablets and powders?
Toothpaste tablets are pretty simple.
You pop them into your mouth and chew them. As they moisten and turn into a paste, put your toothbrush in and start moving it onto your teeth.
I have seen some people grind up the tablets and can then have more control over the amount of product they use.
For shop bought toothpaste a pea size amount is all that is recommended for fluoride toothpaste, less for children under 3.
For powder toothpaste, I have found it's easiest to wet your toothbrush and scoop a small amount from the jar onto the bristles and then start brushing. By scooping the powder out dry, you keep the tooth powder from being contaminated.
Should I Use Fluoride or Non-Fluoride Toothpaste?
The NHS recommends using a fluoride toothpaste with a 1300-1500ppm concentration. The fluoride protects the enamel on your teeth and helps prevent tooth decay.
I grew up in California and our water was fluorinated. My dentist even had us taking fluoride tablets as a kid! But my brother, sister, and I all did what our dentist recommended growing up and none of us ever had a cavity.
Recent studies however have shown that fluoride has the potential to interfere with the thyroid's hormone and could compromise the pineal gland responsible for producing melatonin in our brains which modulates sleep patterns in both circadian and seasonal cycles.
So which is better?
Non-flouride toothpastes won't give your teeth the extra protection from the demineralization that causes tooth decay; however, there won't be any potential health risks from the fluoride either.
The idea behind toothpaste is to keep plaque from forming on your teeth which causes tooth decay and gum disease. So as a cleaning agent and disruptor of plaque formation any toothpaste, or even no toothpaste will do, according to Dr. David Okano a periodontist with 30 years of experience.
According to Dr. Okano just the action of brushing your teeth and flossing is enough to "disrupt[s] the dental plaque that ultimately leads to tooth decay and gum disease." Sure you won't have the fresh breath without the toothpaste, but your teeth will be clean just by brushing with nothing at all.
If you want extra protection for your teeth over the long term, only fluoride can do that.
It will be your decision, but please consult your dentist if you make the switch so they can monitor the health of your teeth. Many report the same or even better tooth health when they ditch the fluoride and others have been told by their dentist that they need to switch back.
Plastic Free Toothpaste is a Win in the Fight Against Single-Use Plastic
By choosing a plastic-free toothpaste, you are getting better quality toothpaste without ingredients like triclosan or SLSs and you are also keeping one of the least recycled plastic products from our landfills.
With so many options from fluoride to fluoride-free, tabs, powders, and pastes, you're bound to find an eco-friendly toothpaste that works for you.
Let me know in the comments below which toothpaste is your favourite.