Helloooo #SecondHandSeptember!
Oxfam kicked off this campaign in 2019 as a way to get us to slooowww down and promote shopping second hand, first.
The UK alone buys more than 2 tonnes of clothing per minute which is a completely unsustainable use (and waste) of the planet's resources given that people are only wearing their clothes an average of 7 times before getting rid of them!
Given that fast fashion is responsible for a huge carbon footprint worldwide and poor working conditions worldwide we need to break up with fast fashion-fast.
Whether you are buying clothing, electronics, or books, we have a responsibility to make better, more sustainable choices for the planet and we can start with shopping for pre-loved items first.
The list below will give you 10 reliable places to purchase second-hand items for you, your family, and your home.
Some of the links may be affiliate links in which I make a small commission at no extra cost to you.
The Best Places to Shop Second-Hand Online in the UK
About the shop: Oxfam is a charity based organisation that has been around over 70 years. They have more than 500 stores throughout the UK as well as an amazing online shop. They are also the creators of #SecondHandSeptember in an effort to fight fast fashion and get consumers to slow down.
You can use the search filters to sort by size, colours, brands, price, and even decade, so finding what you want is easy!
What You'll Find: Oxfam's online shop is full of clothes for men, women, and children. You can find cashmere jumpers for as little as £7 or spend £70 and end up with a Burberry suit!
You'll also find shoes, accessories, as well as books, music, and memorabilia!
About the shop:
Preloved UK is an online buying and selling site where you can find just about anything from clothing to cars, pets to furniture. Anyone can place an ad or buy without paying, but if you get a membership (as low as £5 for the year) you get a few more perks like being able to add more photos or video to your ads as well as browsing without advertisements. There's also rewards like discounts on new products and free gifts, too!
What You'll Find:
At this virtual car boot, you will find clothes, furniture and other things for your home, children's items, cars, caravans, gardening supplies, and so much more!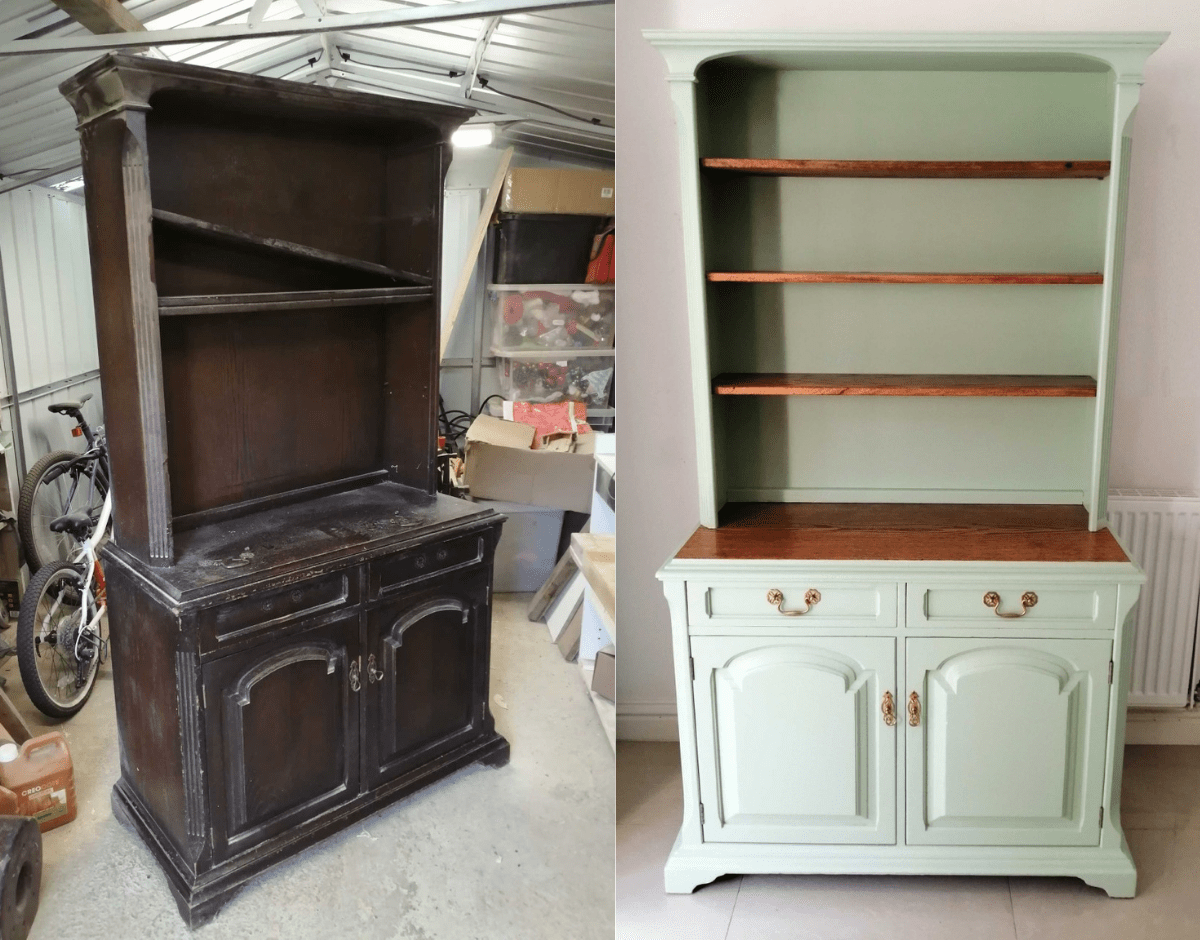 About the shop: Micolet is a second-hand clothing shop for women that upon first glance looks like a legit shop for buying new! All of the items are checked for quality before being added to the shop and they have a 14-day return policy if you aren't happy with your items.
What You'll Find: Micolet offers all women's clothes from high street and premium brands as well as bags and accessories.
You can filter your search by size colour and even look for specific brands, making for an easy shopping experience. Shipping is only £0.88!
About the shop: Vinted is an online shop and app where you can buy (and sell) clothes, shoes, bags, and accessories for men, women, and children.
It's easy to search by size, colour, brand, price and even the condition of the clothes (new with tags is an option)!
What You'll Find: While there is an abundance of fast fashion brands, you will also find some quality items. I find the app easy to use and have purchased from Vinted several times now. I really like that you can find children's fancy dress items; in fact, their kids range is pretty amazing and includes not only clothing, but baby gear, toys, books, furniture, and school supplies!!
About the shop: Depop is a huge online second-hand market that not only sells clothes, shoes and accessories for men and women but kids as well. The search function isn't as easy (in my opinion) compared to Vinted, but it hasn't stopped me from finding good buys.
What You'll Find: Along with hundreds of thousands of clothing and shoe items for sale, you can also find sports equipment, books, music and films, and totally random items in the "other" section. It's very easy to lose an hour shopping here.
6. Thrift+ (also an App)
About the shop: Thrift+ was established in 2014 to create an online charity shop that is as easy to use as ASOS. The shop sells generously donated, high-end items and at least a third of the sale goes to charities chosen by the donor.
Thrift+ does all the work, as in quality checks, photos, and listings, so you don't have to be weary of shady sellers the way you might on Vinted or Depop.
What You'll Find: Thrift+ is a great place to make a tight budget go farther as they carry, not only high street brands, but premium brands to at prices that are quite affordable for men and women. (I found an Alexander McQueen top for £33 and that included shipping). They even offer a 30-day return policy if you are unhappy with your purchase.
About the shop: Vestiaire specialises in designer brand clothing, shoes and accessories. Items that are over £500 will be shipped to Vestiaire first so they can check the authenticity of the item, which gives you peace of mind when you're spending that kind of money. They also allow you to return items within 72 hours of receiving the items if you have any problem.
What You'll Find: High end everything! Besides clothes and shoes for men, women and even children, you will also find accessories, jewellry, watches, vintage items, home décor, and let's not forget designer clothing for your pets!
About the shop: Loopster was founded as a way to buy, sell, and donate gently used (or unused) children's clothing. With babies and kids growing so fast, often parents find their kids have massive wardrobes but can't wea fast enough before growing to the next size!
Loopster gives parents an easy way to pass on those hardly worn items to those that can use them and, of course, the option to shop nice quality clothing by size and gender without the unpredictability of a charity shop. (They have clothes for mum, too)!
If you want to sell, you send your clothes in a bag Loopster sends you, they will then check the quality of the clothes and pay you for them. Anything that doesn't make the cut can either be sent back to you or donated to TRAID, an organisation with projects to stop child and forced labour, provide education for children and garment workers, and to drive transparency in the textile supply chain.
What You'll Find: Hundreds of children clothing items from brands like Next, Gap, Dolce & Gabbana and Stella McCartney. The items are checked by Loopster so the quality will be nearly new.
About the Shop: Fabulous online, used bookstore that offers free delivery to the UK and global shipping, too! You can search by title, author, ISBN number, or have a nosy by genre or browsing the bargain bin.
What You'll Find: Just about any book you want to read including rare and collectable books as well as CDs, DVDs, and games for various platforms including PC and Mac games.
For every book you purchase through the site, they will also donate a book to schools worldwide. Since 2019, they've donated over 100,000 books! A sustainable company worth buying from.
About the shop: Amazing, online, used bookstore that works just like an online store for used books. They are a certified B Corporation and specifically address the UN's 17 Sustainable Development Goals.
World of Books get many of their books by purchasing them from charity shops that can't sell them. This means charity shops still earn money from the donations and World of Books keeps millions of books from going to landfill. They have donated thousands of books to UK primary schools and have pledged to donate a million more by 2020.
The site is easy to shop as you can search by title and author and you will also find rare books, music, and DVDs. Shipping is free in the UK.
(If you aren't ready to make a purchase you can even create a wishlist…mine is crazy long)!
What You'll Find: Almost any book you can think of! Fiction, non-fiction, and children's books are all here! You can find music on CDs and Vinyl as well as DVDs and Blu-Rays of popular films and lots of Disney!
The Other (Sort of Best) Place to Shop Second-Hand Online
Facebook Market Place.
I have such a love/hate relationship with Facebook.
I hate the time sucking vampire that it is, but I love the marketplace. You can join local buy and sell groups and easily sell your own items as well as buy items local that you can pick up the same day.
(It also helps when you can see a name and photo of who you are buying from).
Facebook doesn't offer any protections or return/refund policies for the transactions, so if you are buying something big, like I bought a double jogging pram, use PayPal instead of a bank transfer or cash.
You use the part of the app for sending money to a non-friend or family member for a small fee. (Mine was £7 on a £240 purchase). If you are having an item shipped the fee protects you from any shady sellers that may send damaged items or fail to send them at all.
If you need to get rid of something quick, listing it free will likely have someone picking it up within the hour!
Pre Loved. Save the Planet and Your Pocketbook
Hopefully, you now have the confidence and desire to go forth and shop second-hand. It's so easy to do and in many cases you are directly helping a person or a charity instead of a big corporation. (Not to mention helping the planet).
Do you know of any other online, pre loved shops? Let me know your faves in the comments below.